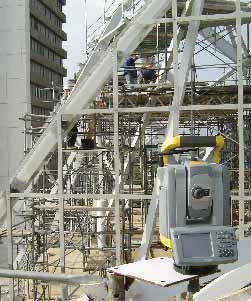 Vokal+Partner guarantees precise measuring. We combine ultra-modern technology – including terrestrial laser scanning technology, laser tracker technology, measuring arm technology and BIM technology – and an extensive range of instruments with the experience of our staff.
We apply the most economical solution and adapt it to meet our customers' individual requirements.
We measure distances and determine surfaces, volumes and heights with a high degree of precision and for the most varied of demands. We leave nothing to chance. We mainly use metrology solutions as well as measuring instruments and special equipment from the world's leading manufacturers such as Leica, Trimble, Autodesk, Faro, API, Perceptron and Hexagon. We maintain regular contact with equipment and software manufacturers to ensure that we are always up-to-date with the state-of-the-art.