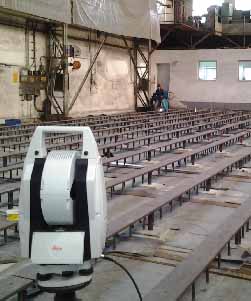 Turbines, driving simulators, machines, production lines and manufacturing systems all have something in common: operational safety and reliability have top priority. And that is where industrial surveying comes into play.
Our experienced staff at Vokal+Partner support manufacturers in a wide range of manufacturing processes in order to meet specifications in terms of precision. We provide measurement data with sub-millimeter precision for accurate information on the size, shape and position of objects in space. We use reliably calibrated and re-certified mobile 3D measuring systems. We can carry out spot on measurements on site with the advantage of the latest technology.
Besides consultation for our customers, our range of services also includes the 3D geometric documentation of small and large components, planned/actual analyses and special 3D surveys of plants and turbines. At the end of the project, our customers receive all of the project documents in the desired file format (including sat, igs, step, dwg, stl) adjusted to the customer's criteria regarding visual appearance and content.